Growing a tree can seem daunting and out of reach for a lot of gardeners, but it's not as hard as it sounds. In fact, it's actually possible to grow a small fruit tree inside your home. Today, we'll be taking a look at growing lemon trees indoors. This can be an excellent way to add some citrus fruit to your diet and is also a rewarding from a gardening prespective! Keep in mind, that trees grow indoors will not grow quite as tall as their outdoor brethren, but this is often intended due to the small space so is not much of a concern for most gardens.
Let's jump into it, and see what it takes to grow your vary own lemon tree indoors.
Getting Started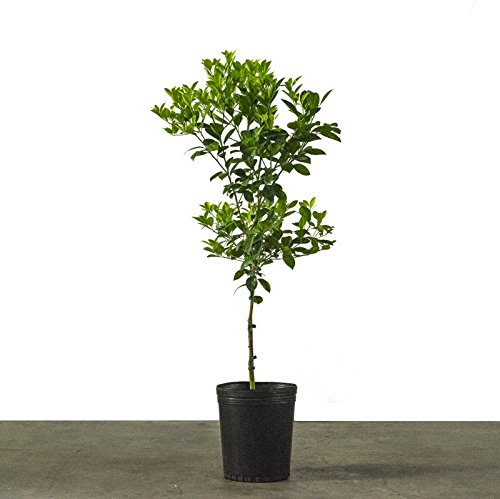 The best way to start is to begin with a sapling of roughly 2-3 years old. This cuts out a lot of time and is always much easier than starting from seeds. Also, be on the lookout for trees labeled as "dwarfs". Dwarf trees are specifically bred to be smaller, so they will do better indoors.
The best place to pick one up is a local nursery. This gives you the opportunity to check out the plant and make sure it's healthy before you buy it. You can also purchase these online, here's a decent one on amazon, if there are no nearby nursery or it is out of the outdoor growing season.
While growing from a sapling is the suggested starting method, you can also grow from a seed if you so choose. This will take long to bear fruit, and is also a bit more difficult, but can extra rewarding when the plant finally matures.
Choosing a Container
When choosing a container make sure to get one large enough to account for future growth. Generally, you're going to be looking for one in the 10-15 gallon range. Having too small of a container will limit root growth, ultimately leading to a smaller and less fruit bearing tree. Also, make sure your chosen pot has good drainage. A couple of large holes at the bottom will help promote natural water draining and prevent accidental overwatering.
Fill the bottom inch or so of the pot with a mix of small pebbles and rocks, then fill the rest with a high quality potting soil. Most soils from a local gardening store will do the trick perfectly. You can also look for soils specifically targeted at citrus trees that are another great option. Place your tree into the pot and gently spread the roots out to help promote proper growth.